​​​​​​​

Because the interior space of a 110 is limited, a rooftop tent is the perfect solution to create a comfortable and roomy sleeping area. We've opted for a Tepui Kukenam 3 which offers more than enough space for 2 people to sleep comfortably and even to store some extra stuff like clothes, shoes or bags. It has windows with mosquito-netting on all sides, even in the roof, so this helps getting the heat out in summer. We have slept in it in all sorts of weather and it proves to be very durable. In very strong winds though, the fabrics tends to get very noisy and, since being 2m above ground level, it all gets a bit wobbly. You can of course limit this by securing the tent into the ground with pegs, positioning the car wisely, and to make sure all the fabric and straps are tightly fastened. In practice, however, we have noticed that it is pretty annoying to get out of the tent several times during the night to re-tighten things. So, when windy weather is expected, we now choose to sleep inside the car. Rain is never really a problem in terms of leakages, as long as you keep the rainfly in good condition and apply a new coating of DWR regularly. An upgrade we really recommend is to invest in a proper anti-condensation mat. This will keep your mattress dry, because a lot of condensation will form during the night on the tent's floor.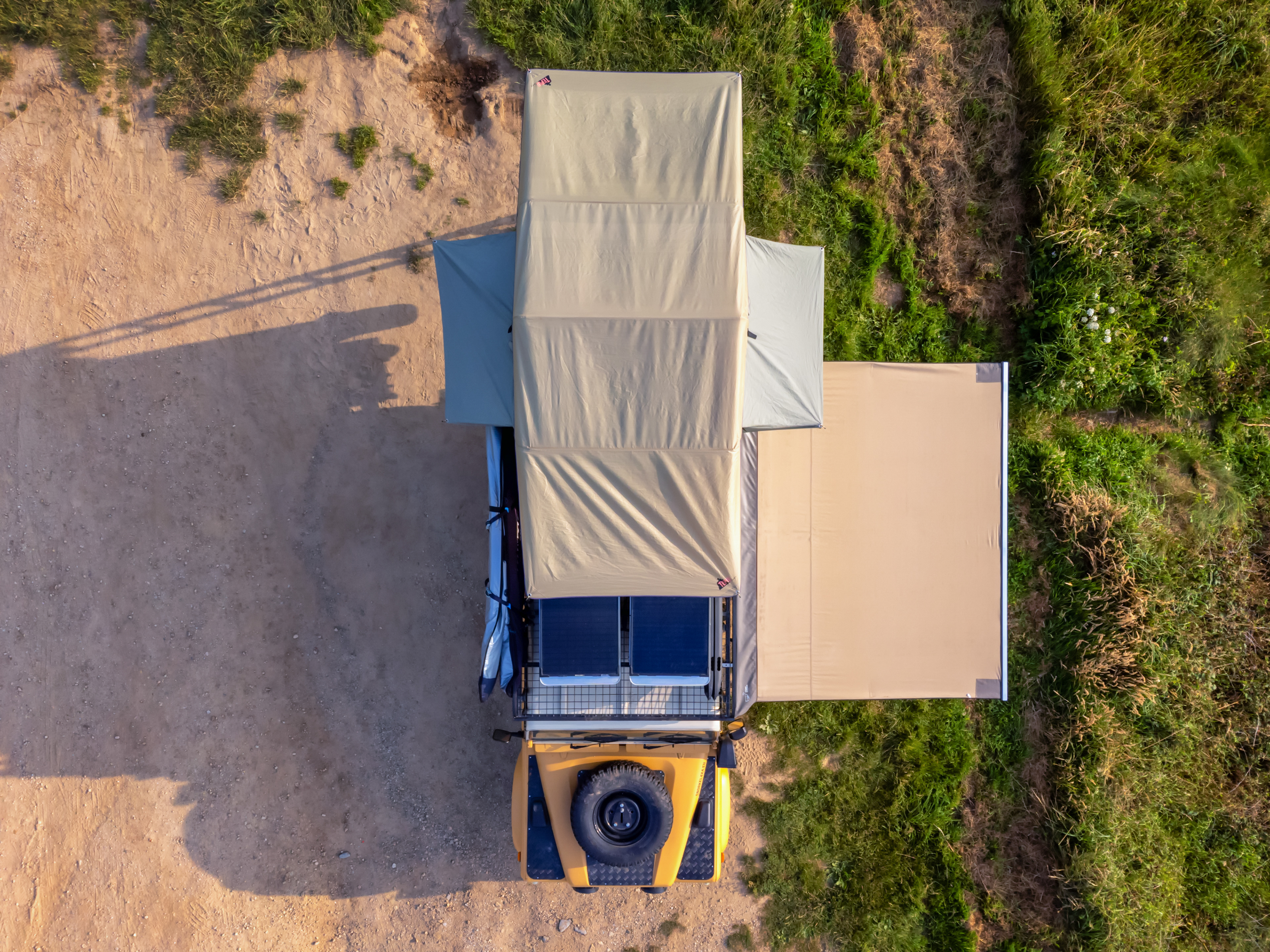 For the awning we chose to go for a Front Runner Easy-Out Awning which measures 2.5m x 2.1m and it creates a perfect area on the side of the car to cook or relax. We use it not only to stay sheltered from the rain or sun, but it also helps on colder evenings to keep the cold away and holds the warmth of a campfire a bit more concentrated.
Both the rooftop tent and awning are very easy to setup, within a matter of minutes, and we have never experienced this being too much work or anything so it works really well for us. 
​​​​​​​
Our latest addition is our DIY rear door awning. We've experienced that in some locations opening up the rooftop tent isn't always possible, for different reasons. This new awning gives us the same shelter as when the tent would be opened up, so we have a dry entry and we can cook on the rear door even if it rains.
 We were carrying a spare rain cover for our Tepui rooftop tent, which we never used and it had the exact width we needed. We only had to shorten it lengthwise. We sewed a keder strip along the shortened side, which slides in a aluminium rail we attached to the roof rack. Now we only needed some kind of support structure to open it up. After considering several different options, we went for a very simple and cheap solution. In a hardware store we bought two telescopic poles, normally used to paint ceilings. They could be fitted to the underside of the roof rack and with a simple turn and pull they slide out to the desired length. Two hooks on the ends of the poles and rings in the fabric are holding the awning nice and tight. It takes less than a minute to set it up and is a great addition for a quick stop in rainy weather.